Share this article
---
Public Relations Contact
---
Dr. Blake Killingsworth, Vice President for Communications news@dbu.edu
Connect with us
---
DBU Students Learn Leadership Lessons in DC
March 26, 2014 | by Blair Robinson
Dallas, TX – Dallas Baptist University's Cook School of Leadership provided a unique educational experience for undergraduate and graduate students during spring break.
Led by DBU's Executive Vice President, Dr. Blair Blackburn, Vice President and Dean of the Cook School of Leadership, Dr. Adam Wright, and Assistant VP for Administrative Affairs, Dr. Heather Hadlock, students were exposed to important sites in Washington, D.C., Williamsburg, Jamestown, and Charlottesville, Virginia. Students were provided the opportunity to study leadership and power through an examination of the lives of America's founding fathers.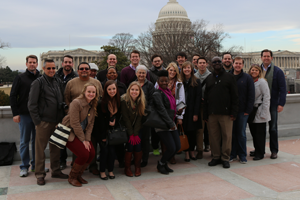 DBU students gather together with the Capitol Building in the background as the tour Washington, D.C.
Dr. Wright stated, ''I believe every student should have a D.C. experience at least once during their academic career. Our nation's capital provides the perfect backdrop to explore leadership and discuss key challenges, strategic change, and influences shaping our culture today.''
Anna Cowart, a Senior Art Major at DBU said, "We were all challenged to not only learn these leadership theories and concepts, but also to apply them to our current contexts and future career callings." She continued, "Gaining a greater understanding of what leadership means, specifically, effective Christian leadership, I recognized that the Lord expects me to inspire and influence others through our common mission…all for His glory."
Some of the notable sites which were visited include the Capitol building, Supreme Court building, and the Library of Congress. Among the historic sites visited, students also enjoyed tours of Washington's Mount Vernon, Jefferson's Monticello, the University of Virginia, and the College of William and Mary. In several of the sites, students were afforded the opportunity to visit with national leaders and elected officials.
The Cook School of Leadership at DBU seeks to produce Christian scholars, servant-leaders, and global thinkers. Programs offered include a Ph.D. in Leadership studies degree and a Ed.D. in Educational Leadership degree, as well as a Master of Education in Higher Education. Students in these programs are professionals in business, healthcare, civil service, education, and Christian ministry.