Share this article
---
Public Relations Contact
---
Dr. Blake Killingsworth, Vice President for Communications news@dbu.edu
Connect with us
---
DBU Signs Partnership with Hillsong College
May 23, 2014 | by Aaron Jones
Dallas, TX – With a warm handshake and the stroke of a pen, Dallas Baptist University and Hillsong International Leadership College entered into partnership with exciting opportunities for students of both institutions to explore their potential, realize their callings, and transform the world.
Kicking off a three-day visit to the University, Dr. Gary Cook, president of DBU, welcomed Mark Hopkins, executive vice president, and Duncan Corby, academic dean, of Hillsong College, to tour the DBU campus and experience that unique Christ-centered spirit of servant leadership exhibited by students, faculty, and staff that makes University Hill so special. In addition, the two were introduced during DBU's campus-wide chapel service, and Corby had the opportunity to challenge the students to pursue the purposes of God in their lives regardless of their degree or profession.
Both Hopkins and Corby brought with them a vitality and zeal for servant leadership that is both characteristic of Hillsong and consistent with DBU's mission to provide quality, Christian higher education. Hillsong, based out of Sydney, Australia, is an internationally recognized organization that has a vision to champion the local church and influence the world through the Gospel. Developing servant leaders with DBU, Hillsong College has a passion to equip students to realize their God-given potential in order to impact the world for Christ.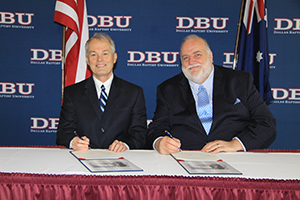 Dr. Gary Cook, DBU president (left), and Mark Hopkins, executive vice president of Hillsong International Leadership College.
While at DBU, Dr. Cook and Mr. Hopkins signed an agreement to connect the pioneering visions of the two institutions to advance the mission of Christian higher education. Under the partnership, DBU established a new program allowing Hillsong students to transfer up to 78 hours of credit from various HILC programs, apply those credit hours to any bachelor's degrees offered through the College of Professional Studies, and provide specific counselors and advisors for students transferring from Hillsong to DBU. The University will also be providing a scholarship of $100 per credit hour for students who are graduates of HILC.
Students from Hillsong who would like to join this new program can find more information at www.dbu.edu/hillsong.
"This agreement is a unique and exciting opportunity that will continue to provide open doors for more students from around the world to come to DBU and explore their calling to serve Christ in their professions," commented Dr. Blair Blackburn, executive vice president at DBU, who helped to lay the groundwork for the contract by traveling to Hillsong in Australia in February, along with Grey Hoff, DBU director of global affairs and assistant vice president for financial affairs.
"Hillsong continues to be a pioneer for advancing the Kingdom around the world through church leadership, worship, media, and education," Mr. Hoff explained. "This new partnership to bring two Christ-centered institutions together is an exciting next step for DBU and Hillsong to pioneer forward together."